Halloween is coming, and this could well be a question that springs from a horror movie:
What if Derrick Rose comes back and is merely a "good" player?
The whole of Chicago will wail. Chances are, David Stern and the NBA will be plenty upset. And the tenuous balance of power will swing even farther away from the Chicago Bulls. Far enough, in fact, to kiss any hopes of an NBA title goodbye.
But is it a given that Rose being unable to lift back off into superstardom will sentence the Bulls to a dozen more years of mediocrity?
Probably. But if John Paxson and Gar Forman aren't at least mulling over the possibility that despite their highest hopes, Rose will return to the floor a mere mortalâ€"probably late at night, and over a few stiff drinksâ€"they're not doing their due diligence as caretakers of the team.
Begin the slideshow at your own risk, Bulls fans. And remember, there are more tricks than treats to come.
Trade Rose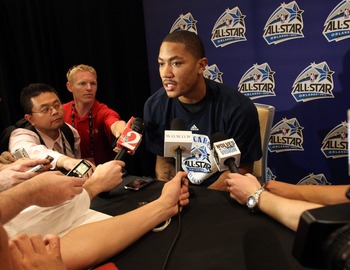 Rose will still command attentionâ€"and a king's ransom in return, if dealt.
Kim Klement-US PRESSWIRE
The Bulls know Rose better than anyone and should be the first to see any signs that the thrill is gone. Could the team could pull the trigger on Rose without the rest of the league having a true and full sense that his best days are behind him?
Er, no. Obviously, the Bulls putting their hometown hero and future savior on the trading block will elicit plenty of eyebrow raises. That backstory, coupled with the spiesâ€"er, scoutsâ€"that any team worth its mustard has dispersed through the league, means that the Bulls won't sneak up on anyone in a Rose trade.
But will that make a smidge of difference in the long run? Dwight Howard commanded a three-year bidding war and the "winner" of his sweepstakes, the Los Angeles Lakers, paid a pretty penny to get him.
The Bulls will be able to command a king's ransom for Rose, the youngest MVP in NBA history, even if he is suspected of merely being a "good" player. Handfuls of teams would be falling over themselves to find the missing links in Rose's failed rehab (Shaquille O'Neal and the Phoenix Suns, revisited) and willing to burn a spicy combination of young prospects and future picks to do so.
A decade ago, the Bulls scooped in its biggest star-for-prospects haul when they swapped Elton Brand for Tyson Chandler and Brian Skinner.
Yeah, you're right, that wasn't much of a haul. Paxson/Forman had better rake in much more than that, or the door will hit them on the hiney on their way out of town.
Blow Up the Team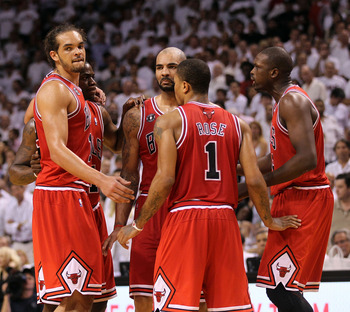 No one should be safe if the Bulls get gutted.
Mike Ehrmann/Getty Images
In 1997, the Florida Marlins won the World Series in their fifth year of existence. Immediately afterward, owner Wayne Huizenga destroyed the team in one of the ugliest fire sales in sports history, dealing Moisés Alou and Kevin Brown in the offseason and shipping out Bobby Bonilla, Gary Sheffield, Charles Johnson, Mike Piazza and Todd Zeile by the 1998 All-Star break.
Six years later, the Marlins won another World Series title.
The Bulls haven't even been to the Finals in 14 years, but the comparison still holds: Tearing down the team and profiting from the prospects/picks can rebuild a title contender.
Think about it: Rose to a title contender or wannabe. The haul? At least the three firsts and Aaron Afflalo-level place-marker starter the Orlando Magic took in for Howard.
Joakim Noah for a lottery pick, minimum.
Luol Deng for a lottery pick and place-marker starter.
Taj Gibson for a mid-first.
Carlos Boozer for, well, a bag of Spaldings.
If there's anything "good" about a fire sale, it's that Chicago would be ascending toward a title without the Big Three in Miami squarely in its way.
As for the interim...hey, Marquis Teague, Jimmy Butler and Nikola Mirotić, knock yourselves out, it's your (lottery) team now.
Oh, and Blow It Up Quickly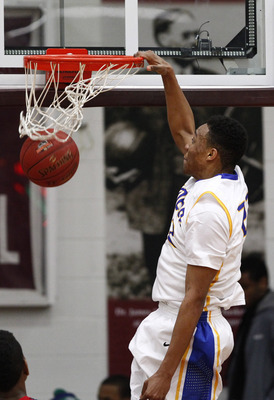 Simeon (Ill.) High School superstar Jabari Parker awaits those teams detonating swiftly.
Mark L. Baer-US PRESSWIRE
Time is of the essence with delightful, franchise-shifting players about to be made available by the basketful.
Next summer boasts a free agent class of Howard, Tyreke Evans, Paul Millsap, Al Jefferson, Monta Ellis, Josh Smith, James Harden, Andrew Bynum and Chris Paul.
The 2014 draft will boast a ridiculous young crop of talent, possibly including Jabari Parker, Andrew Wiggins, Julius Randle, Andrew Harrison and Aaron Gordon, along with another half-dozen blue-chip international prospects.
The 2014 free agent class includes a number of pipe dreams, including Kobe Bryant, LeBron James, Dwyane Wade and Dirk Nowitzki, as well as more reasonable targets such as Carmelo Anthony, Amar'e Stoudemire, Dirk Nowitzki, Chris Bosh, Pau Gasol, Paul Pierce, Danny Granger, Rudy Gay, Zach Randolph and Andrew Bogut. Presuming he's already been dealt, Deng would be eligible to return to the Bulls as well.
Deal with It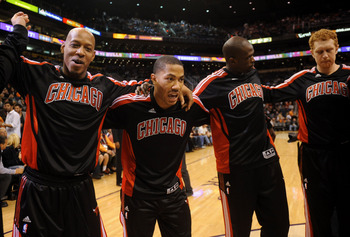 Building around an "average" Rose would remain an option.
Mark J. Rebilas-US PRESSWIRE
There was no guarantee that Rose was going to be a superstar, much less an MVP. After all, there are more No. 1 picks who fall short of either category than who follow through on such promise.
Bittersweet as it is to have a busted ACL tug on Superman's cape enough to render him mortal, so what?
Rose as a "good" player means he is plenty capable of contributing to a winning team. He'll still be a leader and likely captain of the Bulls for years.
Say Rose's range limits his explosiveness to the rim. Okay, he loses that tool from his box and sharpens his outside shooting, or focuses more on double-figure assists. Perhaps strength never fully comes back to that knee and Rose can't shoulder a heavy-minutes load. Well, hello, super-sub.
Now, $16 million-plus per season for another five seasons of a merely "good" player would hamstring the Bulls, no matter what trades may be executed to accommodate such a salary.
But keeping Rose on wouldn't kill the Bulls, it would merely challenge Paxson/Forman to spend and draft smarter. With a margin of error already razor-thin in the NBA, smart future-talent acquisition could prove a bigger challenge than anything Rose might be doing right now to rehab his way back into the league.
Do Free Agency Right This Time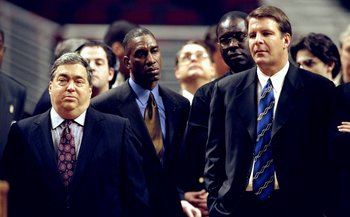 See the long faces of Krause [L] and Tim Floyd? You don't want to repeat the 2000 debacle.
Jonathan Daniel/Getty Images
Back in 2000, the Bulls were supposed to quickly win another NBA title quickly after a horrific, 13-37 blip post-Michael Jordan.
GM Jerry Krause was confident that free agents would flock to the Berto Center door, begging to don the red-and-black and put another banner in the rafters. Money was no object, as the Bulls had room to ink two top-tier free agents.
But Tim Duncan demurred. Grant Hill backed out of Chicago and headed instead to Orlando, as a bit of a concession to Mrs. Grant Hill. Eddie Jones felt the home fires burning and opted for the Miami Heat.
Even Tracy McGrady, at the time somewhat of a stretch as a "max" player and considered a fall-back option for Krause, eschewed the bells, whistles and marching bands the Bulls had waiting for him at the airport and opted to join Hill in Orlando.
That robust free agent class ended up netting the Bulls Ron Mercer and Brad Miller. Yikes.
In 2010, the Bulls courted all three of the superstars who would end up forming the Big Three in Miamiâ€"James, Wade, and Bosh. All three would reject the Bulls, although it is believed that the decision hinged on Wade, who came very close to choosing the Bulls.
If the Bulls are forced into another clearing of the deck, aggravated by Rose being unable to attain his former heightsâ€"it's imperative that the team seal the deal on somebody, anybody, to build around.
Flip the Team for the Nets?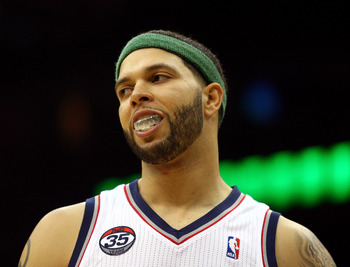 Deron Williams of the...Chicago Nets?
Chris Chambers/Getty Images
Jerry Reinsdorf is not only a clever fellow, but he's also a native New Yorker. His childhood dream was to play forâ€"okay, maybe ownâ€"the Brooklyn Dodgers.
So, moving the Bulls to Brooklyn or outright trading teams with Mikhail Prokhorov? Hey, it's not exactly unprecedented.
Back at the time of the ABA-NBA merger, John Brown folded his Kentucky Colonels franchise (in part under pressure from the Bulls, who held the NBA rights to Colonels superstar Artis Gilmore) and purchased the Buffalo Braves.
A year later, in 1977, Brown had sniffed out an opportunity and traded franchises with Irv Levin, who owned the Celtics. (Levin wanted to move a team to his home state of California and knew there was no chance for him to ship the Celtics west; the Braves quickly became the San Diego Clippers.)
Not a bad upgrade, although Brown would succeed in immediately infuriating Celtics legend Red Auerbach. Brown sold the Celts by 1979 and later became the governor of Kentucky.
The Bulls, failing to return to the Finals for 14 years and now facing a virtual hardwood Siberia with Rose reduced to being a "good" player, will have lost all of their worth, competitively at least. It might be time to call up Prokhorov and flip the Bulls to Brooklyn, and the Nets to Chicago.
Begin Slideshow
Keep Reading

Chicago Bulls: Like this team?